http://dhhs.ne.gov/Documents/COVID-19-Guidelines-for-the-Conduct-of-Faith-Based-Services.pdf
UPDATE FOR THIS WEEKEND
For the corporate and community worship services at the fair, the local health department has recommended the following:
• Hand Washing & Sanitizer Use
• Stay home if you are sick
• Wear cloth mask or face covering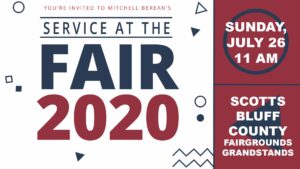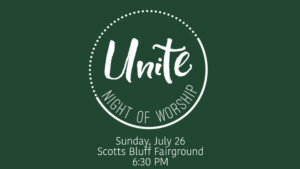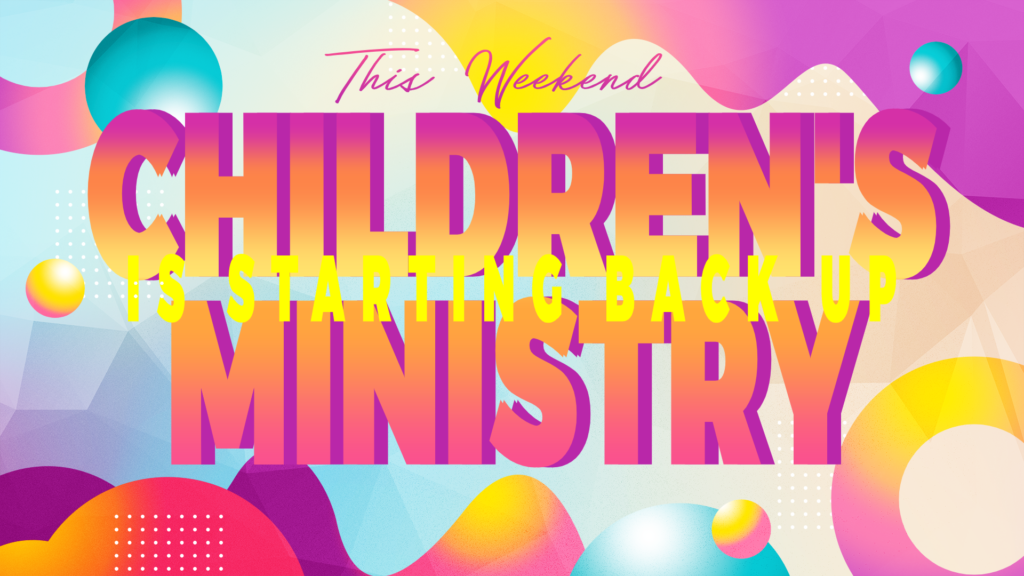 Beginning June 27 & 28 we are resuming nursery and children's church during our worship services. We are so excited to see all the kiddos of MBC. We want you to know that we are taking every precaution to ensure your child is cared for while maintaining these guidelines. Families who wish to have their child/children stay with them during service are welcome to do so. You can have confidence that we will very good care of your child/children just as we always do.
Services:
1 Saturday night service at 6 PM and 2 services Sunday morning at 8 AM & 11 AM
Service Participation Options:
We will provide 3 live services for those who want to attend live service
We will live stream each service on Facebook, YouTube and our website for those who need to stay home
We will maintain FM transmission within our parking lot for those who want to come to church but remain in their vehicles
Additional Seating:
We will set up an overflow area upstairs using the screen and sound system
Children's:
No children's ministry until further notice
Sanitization:
Wipe down bathrooms, doors, hard surfaces in between each service
While we cannot enforce this we will encourage those attending to please wear a mask
Seating will be staggered
We will continue drive-in services through the month of April and will reassess our approach for May as the time nears.
We have received written approval to hold Drive In Services from the Governor's office and our local COVID Command Taskforce.
Here are the guidelines they have given us to follow. It is very important that we set a good example and follow these guidelines so that we can continue to hold these services.
Guidelines we must follow:
– Only come with those in your home, don't stop to pick someone up.
– Once you arrive at Church our parking team will assist you in parking, all vehicles must be spaced 6ft apart.
– While in the parking lot everyone must remain in their vehicles at all times. There will not be bathrooms available so plan appropriately.
– Do not pass anything between cars while you are at the services.
At this time we plan to hold the services regardless of the weather but should changes need to be made we will inform you using the normal means so stay tuned in so you're aware of any changes.
Good Friday service will be held online only this Friday at 6 PM.
Here is what we are doing for Youth/College
We are hosting a youth livestream every Wednesday night at 7pm on Facebook, and our church website. Sunday nights at 7 we are doing a Bible study over Zoom called: "You Can't Quarantine the Gospel!" Contact Pastor Ben for an invite to the meeting.
His Hill is meeting every Monday at 7pm through Zoom! All college students/young adults are welcome to join us!
Meeting info can be found on our Facebook Pages for RYM and His Hill, or by contacting Pastor Ben @ pastorben@mitchellberean.com
Facebook Pages:
Wednesday, March 24, 2020
Marriage Retreat has been postponed. Please stay tuned for updates.
Wednesday, March 21, 2020
Wednesday, March 18, 2020
This is Pastor Jon with an update regarding our response to the Coronavirus (COVID-19).
As an Elder Board we are absolutely unanimous regarding our response.
First of all we are absolutely confident that God is in control and that we must turn to Him during this time. Our faith is stronger than ever and we are hopeful that, through our example, many will look to Jesus during this crisis.
Second we recognize that we have a responsibility to our community and to our leaders. Our response during this crisis will say a lot about how we see ourselves in our community and how they see us. By cooperating with our leaders we show that we are good neighbors and are willing to help in times of crisis.
Those that we are looking out for are members of our church and community who are at high risk of passing away if they contract this virus.
Here is our plan moving forward. For the next 2 weeks we will be holding our weekend services ON-LINE ONLY. We will broadcast our services at the regularly service times, Saturday 6pm, Sunday 8am and 11am. We will offer children's programming as well during these service times. Our children's leaders will offer online teaching for your kids so they can watch them while you watch the service.
This is a great time to be reminded that the Church is not the building but the gathering of Believers and we can do that as we all watch together online.
We will be posting daily devotionals via our website and social media so you can watch and share those.
Our building will be closed for the next 2 weeks so please don't try to access our facilities.
We are encouraging our life groups to utilize an app called Zoom. This is available and will allow your life group or Bible study to meet together for encouragement and fellowship.
If you want to serve during this crisis then we are putting together a list of "At Risk" folks in our church who will need to stay inside. We will make this list available through "Realm" and you will be able to contact them and do any shopping for them that is needed. There are guidelines to follow to ensure you don't inadvertently expose them to the virus as you pass them the supplies you picked up for them. Pay attention and follow these guidelines. Watch for an update on Realm regarding this opportunity to serve.
Please continue to support your church financially. We have missionaries and staff who rely on your giving. You can give through our website online. Thanks in advance for being faithful in that area.
Remember to "BE THE MESSAGE" during this crisis. Many will be looking for answers so be bold to share the message of salvation with everyone who is open and looking. We are praying for a revival and that our country will turn back to Jesus.
PRAY! Spend your free time praying for our "Jerusalem, Judea, Samaria, and the entire world".
Thank you for your faithfulness to the cause of Christ!
Pastor Jon and the Mitchell Berean Elder Board
God is faithful and fully in charge of the events of our world. The coronavirus is not beyond God's power. In fact, He is fully in command of its activity. We do not believe that anything happens outside of God's control or will.
Just like the Biblical characters of old we must deal with the issues in our world with wisdom and faith. God has led the Elders of this church to make this decision regarding the weekend services:
We will have one service at 11 am. We will not have any children's programing this weekend. No children's church or AWANA, no special needs programing either.
We would ask that if you are in the group of "At Risk" individuals or if you are uncomfortable with attending a large public gathering that you stay home and watch our service online.If you are sick or not feeling well, please stay home, take care of yourself and watch our service on line.
We know God is in charge of this virus and we are not afraid of it. We are taking measures to slow the spread of this virus so that we can be more prepared as it affects our region.
Please stay tuned as we will make decisions on a weekly basis regarding our weekend services. May God bless you and keep you and make His face to shine on you and give you Peace.